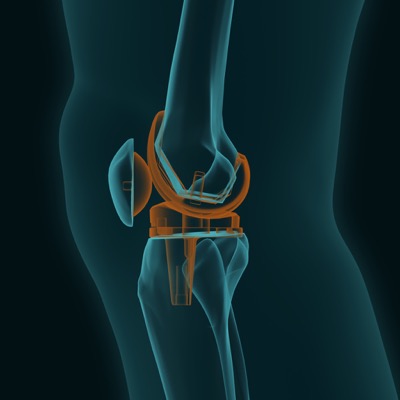 We get this question often from our patient's, friends and relatives. Recently I read an excellent review article of a Danish Randomized Clinical Trial (RCT) by John Orchard, MD a sports physician from Australia. Here is a synopsis of his article.
100 patients eligible for TKR; randomized to 50 getting TKR, 50 to conservative care
The group was followed for 12 months, 26% (13) patients crossed over from conservative care to TKR
Both groups showed similar improvements in decreased pain and improved function at 1 year
The authors could not rule out an additional surgical placebo effect over and above the non-surgery group
TKR group had a higher complication rate do to the intervention of 16% (this was expected) vs 2% for the non-surgical group
However serious adverse medical events not directly associated to the surgery over the 12 months was 48% for the TKR group and only 12% for the conservative care group.
TKR seriously challenges a patient's general health to warrant warning patients about the increased risk
These findings can make the decision to undergo TKR more difficult for some patients. "Does the more likely improvements in pain and function of TKR outweigh the increased serious adverse risk?"
You may want to take this aspect into account
Current fitness level: Pain is subjective but fitness and activity levels are objective.
Low levels of activity are hazardous to long term health.
If your knee pain is preventing you from walking less than 6000-7000 steps a day (can be tracked with a fitness tracker or smartphone) it may be time to consider TKR.
Medical history: Pre-existing cardiac or renal disease, history of deep vein thrombosis (DVT) that requires blood thinners for control, diabetes and a history of smoking increase the risk of serious medical complications following TKR.
Recent cortisone or arthroscopic surgery : Studies found that having either or both procedures within 3 months of TKR increased the complication rates.
Did conservative care fail or was never attempted: Person was never sent for physical therapy, education /exercise classes. Did not have a trail of Hyaluron gel injections or a trial of a joint off loading brace.
Do not make the decision based on the following:
X-ray or MRI severity of OA: X-ray can help establish the diagnosis of knee OA. However, several studies have found poor correlation between X-ray OA severity and actual levels of activity and walking tolerance. (again think physical activity level capabilities vs X-ray findings)
The patient's age: There is a tendency for surgeons to state the best age for TKR is 60-65 years old. They are considered young enough to do well and old enough that they most likely will not a revision (second TKR), within their remaining lifetime. Although there is some fact to this statement it should not be used to encourage a patient of 60-65 to have a TKR that is not needed. Conversely allowing a 40-50 year old who is extremely debilitated an unable walk more than a several thousand steps a day not being considered for TKR.
Hopefully this synopsis helps if you are currently considering TKR. In closing TKR is a good and viable surgical procedure for the right person done at the right time. If you have medical issues you may want to consider addressing them with your doctors and medical providers to help reduce your risk levels and get the best results following TKR. Village Family Clinic offers proven conservative care such as Physical Therapy, fitting of knee Off Loading Braces, Chiropractic care, Nutritional counseling and Acupuncture . If you are having TKR we offer prehabilitation to prepare you for surgery and postoperative TKR care to help you get back to the activities and life you want to have!.
Should you have any questions regarding this information please feel free to contact us.
Bob Scanlon, PT, Cert MDT, NJ Lic # 40QA00283600