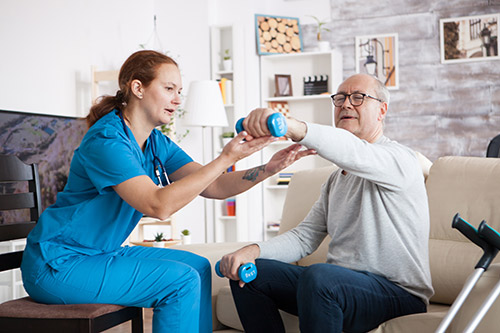 In any treatment sessions, a patient's motivation is one of the most important factors that influences the speed and extent of their recovery. It is understood that staying motivated throughout the rehabilitation journey will be a challenging task. With physical therapy, it offers compassionate and comprehensive care to make patients truly feel better.
As a healthcare specialty, physical therapy is aimed at diagnosing and treating individuals of all ages who have health conditions that will limit their ability to move and perform daily activities. The physical therapists will assess your mobility and offer strategies to help you move better and feel better. There are prescribed exercises to help improve your range of motion, strength and balance. Setting yourself up for success in your rehabilitation treatment, it is important to focus on achieving the long term goals that you want to achieve. Coming into every session with a positive attitude and an open mind will greatly help. In most cases, the physical therapists will assess your needs and develop an individualized plan of care to help you meet your goals. It requires a few sessions or several weeks to achieve your goals.
The physical therapist's ultimate goal is to restore maximal functional independence to each individual patient. Treatments will include exercise, hands-on care and patient education. They work with people who have disabilities, impairments or limitations in their overall physical function. Lastly, physical therapy is meant to help patients recover and learn to prevent injuries in the future.
For more tips on Physical Therapy, contact Village Family Clinic.