Researchers in Spain and the United States report that "Patients who received physical therapy consisting of manual techniques for carpal tunnel syndrome" achieved results comparable to outcomes for patients who had surgery for this condition. Physical therapy patients saw faster improvements at the one-month mark than did patients treated surgically.
For three weeks, the therapy patients received weekly half-hour manual therapy sessions - meaning therapists only used their hands. The therapists focused on the neck and the median nerve. They also applied manual physical therapy to the shoulder, elbow, forearm, wrist and fingers. The Physical Therapist also instructed the patients on how to perform neck-stretching exercises at home.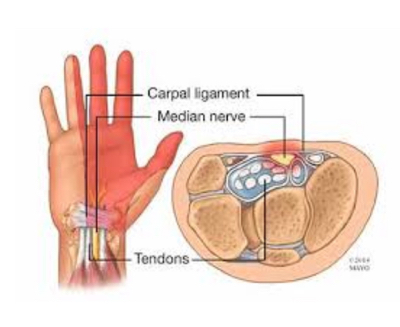 After one month, the therapy group reported greater daily function and greater "pinch strength" between the thumb and forefinger compared to the surgery patients. After three, six and twelve months, however, improvements were similar in both groups. All participants experienced similar reduction in their pain, but the physical therapy group showed faster improvement.
Carpal Tunnel Syndrome, is typically caused by compression of the Median nerve in the palm facing area of the wrist. This can cause symptoms such as numbness and tingling typically of the thumb, index, middle and thumb side of the ring fingers. In more advanced cases of carpal tunnel there can be constant pain, decreased hand strength and loss of sensation in the hand. This overtime can cause a loss of ability to use the hand for work and everyday activities.
Possible causes of Carpal Tunnel:
Include repetitive maneuvers related to work, hobby or home activities. It can also be brought on by pregnancy because of edema, or fluid retention. Other possible causes are underlying inflammatory diseases, degenerative, and rheumatoid arthritis, hypothyroidism, or an underactive thyroid or diabetes. Trauma, such as dislocation or fracture of the wrist or structural problems in the wrist joint, lesions in the wrist, a cyst or tumor in the carpal tunnel.
How is Carpal Tunnel Syndrome Diagnosed:
Patient's subjective history of thumb and finger numbness, tingling, pain and strength loss of the affected hand.
Observation of atrophy (loss of muscle mass) in the palm region just below the thumb along with marked loss of strength with grip testing
Tinel's test, or Tinel's sign: The doctor taps the median nerve at the wrist lightly to see whether the patient feels numbness or tingling in one or more fingers.
Phalen's test for wrist-flexion: The patient presses the backs of the hands against each other so that the wrist is bent. If tingling or numbness occurs within one minute, there may be damage to the median nerve.
Electromyography: A fine needle is inserted into the muscle. Electrical activity on a screen can reveal whether there is any median nerve damage, and if so, how severe it is.
Blood tests: Blood tests can detect an underlying condition that can be related to carpal tunnel syndrome, including hypothyroidism, rheumatoid, arthritis, or diabetes.
Imaging scans: An x-ray can show whether there is a fracture or some other disorder, such as rheumatoid arthritis and an ultrasound scan can check the structure of the median nerve. Studies have found that MRI scans are not useful in diagnosing carpal tunnel syndrome.
Study co-author Joshua Cleland, a professor with the physical therapy program at Franklin Pierce University in Rindge, N.H. stated "Manual physical therapy may be just as beneficial in improving function and symptom severity as surgery despite the severity of their condition," he also noted that 38 percent of those in the therapy group had "severe" carpal tunnel syndrome. Cleland went on to state "Surgery is necessary when there is muscle weakness or atrophy from the nerve being compressed at the wrist." However, operations can have complications, said Cleland. He cited a previous research finding that "approximately 25 percent of individuals undergoing surgery for carpal tunnel syndrome experience treatment failure with half of those requiring an additional surgical procedure."
So based on the findings of this study if you considering surgery for your "Carpal Tunnel Syndrome" physical therapy can be considered a first line option with just as effective results and less complications. J Orthop Sports Phys Ther. 2017 Mar;47(3):151-161. doi: 10.2519/jospt.2017.7090. Epub 2017 Feb 3.The Effectiveness of Manual Therapy Versus Surgery on Self-reported Function, Cervical Range of Motion, and Pinch Grip Force in Carpal Tunnel Syndrome: A Randomized Clinical Trial. Fernández-de-Las-Peñas C, Cleland J, Palacios-Ceña M, Fuensalida-Novo S, Pareja JA, Alonso-Blanco C.