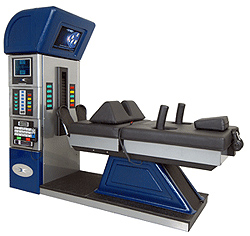 ​Nonsurgical spinal decompression therapy in Hackettstown, NJ is a revolutionary new technology. This therapy is used primarily in treating disc injuries in the neck and in the lower back. FDA-cleared equipment is used when applying distraction forces to spinal structures in a precise and graduated manner. You can be confident that this treatment is very safe and highly effective.
The nonsurgical spinal decompression technique applies distraction forces that are counterbalanced by cycles of partial relaxation. The unloading due to the distraction force gently separates the vertebrae from one another creating a vacuum inside the discs that are targeted during the therapy session. The vacuum effect, or negative intra-discal pressure, helps induce the retraction of the herniated or bulging disc and takes pressure off the nerve root, thecal sac, or both. The negative pressure brings relief to the pain felt in the neck or lower back. The effect is cumulative and happens microscopically during each treatment. After a few visits, the results are quite dramatic.
Over a series of visits, you will reap the benefits of spinal decompression. The cycles of decompression and partial relaxation that you experience through this therapy promotes the diffusion of water, oxygen, and nutrient-rich fluids from the outside of the discs to the inside, enabling the torn and degenerated disc fibers to begin to heal.
Non-Surgical Spinal Decompression is very effective at treating bulging discs, herniated discs, pinched nerves, sciatica, radiating arm pain, degenerative disc disease, leg pain, and facet syndromes. To find out more about this therapy, contact the Village Family Clinic.