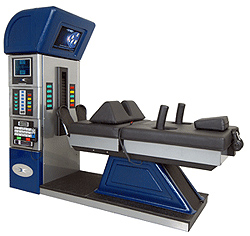 If you are currently suffering from a painful disc injury, then nonsurgical spinal decompression therapy in Allamuchy, NJ may be an option to consider for treatment. This procedure uses new, revolutionary technology that treats the disc injury in the neck as well as in the lower back.
One of the many benefits of spinal decompression is pain relief. Severe, debilitating and chronic pain can be caused by a pinched nerve in the spinal column. In nonsurgical spinal decompression therapy this nerve impingement in the lumbar spine is relieved through expanding, rehydrating, and nutrient-loading the discs where the nerve is injured. This option is safe and effective. FDA-certified equipment is utilized to apply distraction forces in a precise and graduated manner to the spinal structure, thus alleviating the pressure and the pain.
Nonsurgical spinal decompression involves stretching the spine with the goal of relieving pain. This therapy produces negative intradiscal pressure to promote repositioning of the affected disc materials and produces lower pressure in the disc causing an influx of the essential healing nutrients into the affected disc. This is why nonsurgical spinal decompression therapy is widely used today to promote an optimal healing environment for pinched nerves and bulging, degenerating, and herniated discs.
To find out more about the benefits of nonsurgical spinal decompression therapy, contact Village Family Clinic.