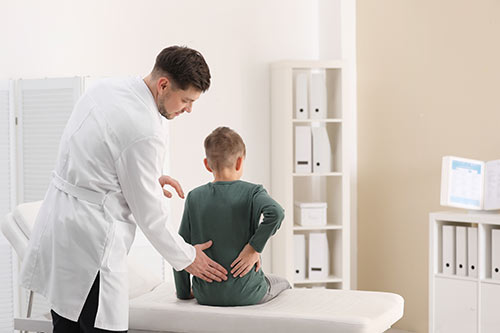 A note from Dr. Fedich. Many of our patients are surprised to learn we treat children for many of the same ailments as adults, including headaches! It is amazing to me that patients will come to our office for headaches, yet their child is left at home with headaches as well, NOT being treated. Often, it's because they didn't realize some of the same things causing their headaches may be causing their child's headaches. Many rely on their own experience of never having seen a Chiropractor as a child, much has changed.
If your child is experiencing headaches, please make an appointment with our office and one of our highly trained chiropractic physicians will diagnose and treat the problem accordingly.
Don't let your children fall victim to the same health problems you have. Get your children checked out early and take care of small problems before they become big problems. Start your children off in a lifetime of good health, exercise, and fitness.
This month I decided to write about children's health issues. In particular, two health issues have been raised lately by two new studies. The first study was published in the Journal of the American Medical Association. This study investigated high blood pressure in adolescents.
Researchers compared average systolic (bottom number) and diastolic (top number) blood pressure among children aged 8-17 and evaluated their body mass index. They found since 1999 blood pressure had gone up 1.4 mg Hg for systolic and 3.3 mg HG for diastolic. Meaning children have higher blood pressure at the same age than they did 5 years ago. The researchers noted a strong correlation between being overweight and having high systolic blood pressure.
The study remarked that like many health problems that people feel in their fifties, they often start in childhood. Rather than have your children suffer heart disease in their fifties, why not start them on regular check-ups, diet, and exercise to prevent these problems from occurring?
The second study of significance was published in the Archives of Pediatric and Adolescent Medicine. The study looked at sleep patterns and television watching. The first disturbing fact in the study was that 30% of children with an average age of 14, watch 3 hours or more of television per day. The study found children who watched 3 or more hours of TV per day were at a significantly elevated risk for sleep problems as an early adult and into adulthood.
This means by watching too much TV as a child, you will decrease your sleep during childhood, but also into early adulthood. The researchers concluded by saying, "The American Academy of Pediatrics had recommended that youth NOT watch more than 1 to 2 hours of television per day." That sounds like good advice to me. I know most do NOT want to hear it but…
Something we learned during Covid Lockdowns:
Sit with your children and play board games, read a book together, and go outside for a walk. It is very easy to dump the kids in front of the TV, but you will find after time that you will enjoy spending time with your children, and everyone will be happy and healthier.
Contact Village Family Clinic and set an appointment with our chiropractor for your child!