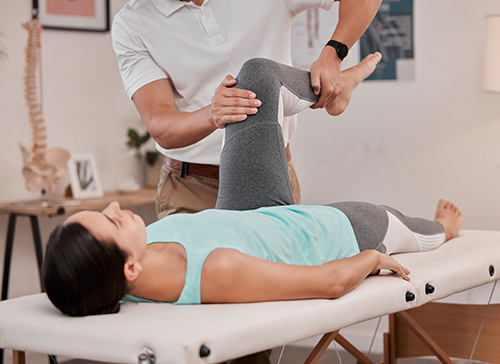 Chiropractic care is suitable for everyone, the healthy and pain-free and those who need help resolving pain and other conditions. It is not necessary to be injured to benefit from chiropractic exercise rehabilitation. Chiropractors here in Hackettstown's Village Family Clinic will show you exercises and stretches that you can execute to exercise safely and correct any issues that will cause injuries in the future.
Chiropractic exercise rehabilitation will help increase your range of motion. Whether you experience pain or not, it is impossible to realize maximum fitness efficiency when your muscles are stiff, and your movement is restricted. Our chiropractors are trained and experienced with techniques that help increase your range of motion. Much is involved here, but muscular and skeletal alignment relaxes muscles and ligament stress which in turn empowers the body to respond more efficiently.
When your muscles are relaxed, the body benefits from a wider range of motion, which will help you work out, move, and work more efficiently, with less restrictions. Moreso, it strengthened your muscles and bones. When your spine is misaligned, this places pressure on your joints and muscles that they are not meant to withstand. Once it is realigned, it will be able to strengthen your muscles and bones, since they will be easier to work. In cases you suffered an injury, chiropractic exercise rehabilitation will not only help you recover, but it will also help you prevent future injuries.
Although chiropractic exercise rehabilitation is most often discussed within competitive athlete circles, everyday athletes like you and us are increasingly tapping in because of the measurable quality of life delivery of the service.
To learn more about Chiropractic Exercise Rehabilitation, contact Village Family Clinic.