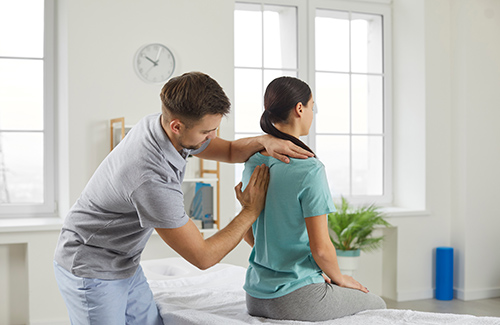 You can help keep your spine healthy and mobile with regular spinal adjustments. Joint pain can be a daily fact of life. Chiropractic care is a common and effective procedure for joint pain. It eases the pain and keeps your joints healthy. Let us help you feel your best so you will enjoy every moment of your life.
If you are experiencing joint pain, Village Family Clinic's chiropractors will recommend treatments like chiropractic adjustments that involve manipulation of the spine that helps to restore proper alignment and motion. We also employ joint mobilization techniques that use gentle movements to help loosen and stretch the joints. This helps reduce pain and inflammation.
We'll list a few other quality of life enhancing services to consider. Massage therapy helps to improve blood circulation. Ultrasound therapy helps reduce inflammation and pain. Another treatment is acupuncture which uses small needles inserted into the skin to stimulate certain points on the body. It has been shown to help relieve joint pain. We help people reach optimal performance through chiropractic care and referrals to other pain management specialists that can serve your bext intetest.
For more information about how chiropractic care can change your life, contact Hackettstown's Village Family Clinic.