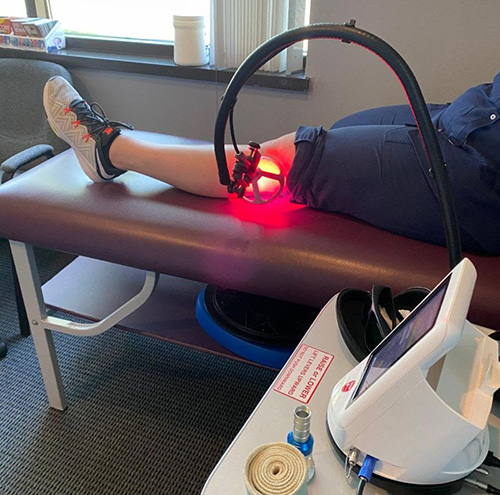 Hey there! I have been getting a lot of questions about Class 4 Deep Tissue Laser and Knee pain. In fact the last two weeks we had two patients cancel knee replacement surgery!
What is Class 4 Laser Therapy?
Class 4 laser therapy may sound futuristic but it has become a standard of care for many musculoskeletal injuries. Laser therapy uses specific wavelengths of light (red and near-infrared) to create therapeutic effects. The light that is transmitted via the laser helps stimulate certain processes within the body that help provide relief to symptoms including pain, swelling, and limited range of motion.
There are different classes of lasers like the Class 3 laser which is a cold laser whereas the Class 4 laser produces heat. We decided to purchase a Class 4 laser because we are the team chiropractors for professional football, baseball and basketball teams using Class 4 laser protocol.
How does Class 4 Laser Therapy Work?
The wavelength of the laser used in Class 4 laser therapy penetrates deeper and more efficiently than the Class 3 laser allowing it to pass energy to the nerve, muscle, ligament, and tendon tissue in a short amount of time. In fact, most sessions range from 2-6 minutes which means we can treat injured tissue in multiple areas in a single session, thus, improving your results.
Class 4 laser therapy stimulates the production of ATP (adenosine triphosphate) which drives many of the processes within our cells. This increased production of ATP helps speed up the healing process within cells. As a result of increased ATP production, the patient experiences an improvement of symptoms, including reduced pain, swelling, and range of motion and of course, the heat from the laser is soothing as well.
Class 4 Laser Therapy Benefits
The benefits of class 4 laser therapy include reduced pain and swelling as well as improved range of motion but a class 4 laser has some very interesting effects that we don't notice as obviously. A class 4 laser increases tissue regeneration which is why you heal faster but it also accelerates soft tissue and bone repair. This kind of laser therapy can also improve nerve regeneration & function as well as impact your cells to increase cell metabolism, enzymatic responses, collagen production, and promote angiogenesis (the creation of new blood vessels). So yes, you walk away from class 4 laser therapy feeling better but the therapy continues to work on the cellular level to improve your musculoskeletal health after you leave the office.
We use class 4 laser therapy on a range of issues including chronic knee pain or arthritis, chronic Achilles tendonitis, elbow pain or tendonitis in the elbow, and chronic wrist pain. We are able to use the class 4 laser on a wide range of injury sites and extremities to provide relief to our patients.
Now, you might be wondering what it feels like to get class 4 laser therapy. We find that many patients think that laser therapy will hurt and they're pleasantly surprised to learn that they will feel some soothing warmth in the area we're treating but certainly no pain. Class 4 lasers provide pain-free relief to many of our patients and can also be used in conjunction with other treatments like dry needling.
Call or text 908-813-8200 to set up your appointment, your first laser session is on me!
James R Fedich, DC