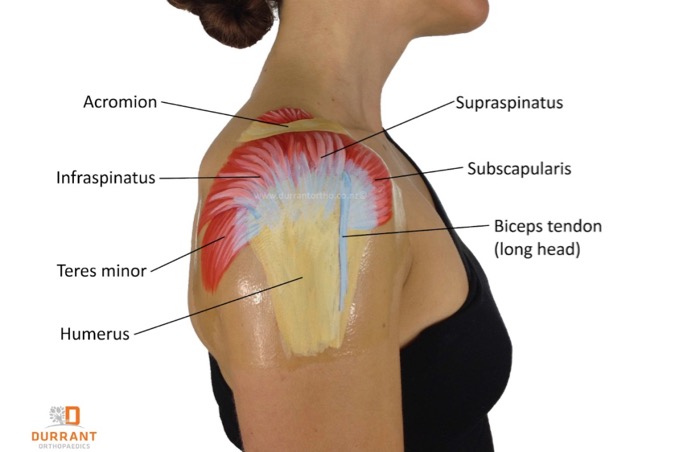 What is the rotator cuff?
It is the tendinous attachment of 4 muscles that start from the Shoulder blade (Scapula) to attach to the top of the Shoulder (Humeral head).
Tendons attach muscle to bone and allow the muscle to move/control the joint.
Tendons can sustain tears as a result of trauma (fall, accident etc.) or because of wear and tear (aging, sport or work demands).
Signs & Symptoms of Rotator Cuff Problems:
Pain and stiffness around the top of the shoulder, pain on the outside of the upper arm, pain at night that interferes with your sleep, pain, and difficulty or inability to lift your arm overhead and weakness of the arm.
How are Rotator cuff tears diagnosed?
Subjective History, Fall onto an outstretched arm or directly onto the shoulder, Decreased ability to raise the arm overhead, Pain with lowering the arm from above head level, Age > 55, Night pain
Imaging: X-rays and MRI
With a history of trauma X-ray and MRI are warranted to rule in or out other serious pathology, (fracture, dislocation, labral lesions) as well as checking the integrity of the Rotator Cuff
In the case of a Non-Traumatic onset X-rays and MRI have limited predictive value and should be held until a course of conservative care has been undertaken. (exceptions are patients with a history of cancer or a know metabolic disease
Do Tears Progress?
Several studies indicate that larger full-thickness tears (> 1.5 cm) will progress about 50% of the time over a 5 year period and become more symptomatic
About 35% of partial tears will increase in size over 5 years follow up but most remain less symptomatic then full-thickness tears.
Tears that are more anterior and involve tears into the 'Cable" region are usually more symptomatic and typically require surgical repair vs conservative care.
Conservative Care?
May include a short period of rest in the case of traumatic injury
Management of pain with either prescription or over the counter NSAIDs or Tylenol (Opioid medication is not indicated)
Management of pain/inflammation via Cortisone Steroid Injection(CSI) tends to be short-term relief of 4-8 weeks but may allow the patient to tolerate other interventions.
Physical Therapy to address, shoulder mobility, control, strength and load tolerance ( recommended timeframe is 8-12 weeks) Exercise for rotator cuff tendinopathy – A systematic review of contextual factors and prescription parameters Littlewood et al (2015. International Journal of Rehabilitation Research)
Significant outcomes can be achieved when programs are prescribed by physical therapists, Patients of varying age, duration of symptoms and severity of pain and disability can achieve significant outcomes, Pain production or pain avoidance during exercise does not appear to matter.
Village Family Clinic offers proven conservative care such as Physical Therapy, Chiropractic care, Nutritional counseling, and Acupuncture. If you are having shoulder area pain and problems we offer care to help you get back to the activities and life you want to have!.
Should you have any questions regarding this information please feel free to contact us.