By Dr. Tyler J. Carlock, D.C.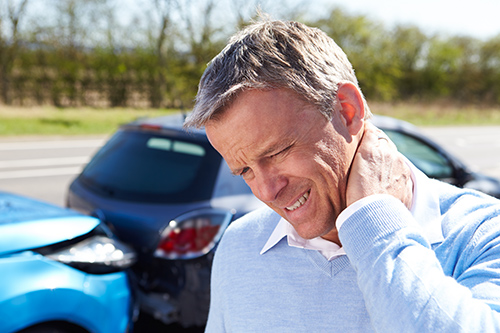 Did you know that even a minor fender bender can cause serious injury to your spine? Whiplash is a common word but not many people know exactly what it means. Whiplash occurs when you are in a collision with a car especially being rear-ended. When the collision happens, your neck rapidly extends backwards then flexes forward in a split second, which is traumatic to the ligaments and muscles in your neck. This can be very painful and cause decreased range of motion in your cervical spine (sometimes people don't feel any pain until the next day). In most instances, the inflammation will irritate the spinal nerves which can cause sharp pains into your shoulder or down your arm which can cause decreased muscle strength or sensory changes. This is called a "radiculopathy." In severe cases, fractures can even occur in the bones in your neck. According to a study, whiplash at even 5 mph can cause permanent damage to your cervical spine.
Whiplash is not the only injury one can sustain from even a minor car accident, low back pain and disc herniations in the lumbar spine can be very common as well. People may experience "sciatica" which is a sharp shooting pain down your leg. Most people will get sent to the hospital after a car accident, and if the x-ray is negative for fractures they will just be released with an anti-inflammatory or muscle relaxers. Most of the time this is not a sufficient treatment for the underlying cause of the injuries. Visiting a chiropractor for all of these injuries after an accident is a great way to deal and recover from the injuries. Taking pressure off of the nerves and getting you out of pain and increasing range of motion is the main goal of treatment. In most cases, the automobile insurance company will pay for all of the care you receive from a chiropractor for injuries due to a motor vehicle accident.