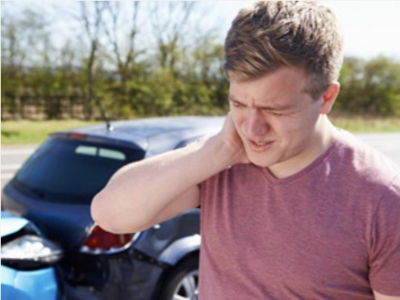 Do you suffer automobile accident-related neck or back pain? Well, let's get that taken care of without the need for surgery and/or harmful medication. Chiropractic care is rapidly becoming the treatment of choice for auto accident victims and often this is due to ever increasing volume of referrals to chiropractors from medical doctors. Today, lets focus upon neck pain.
When there is an injury to the neck or any other trauma or microtrauma, these nerve roots can become pinched due to either the spine being out of alignment or the intervertebral disc bulging out and touching the nerve root. This can result in sharp shooting pains in the neck that travel into the shoulder or all the way down the arm. This is because that same nerve in your neck connects to the nerves in your arm. Muscles will tighten up around the area coupled with a decrease in range of motion and usually a lot of pain. We are often able to provide relief without drugs or painful and risky surgery.
Treatment for this condition usually consists of chiropractic adjustments to the spine as well as electrical stimulation and muscle work to loosen muscles and decrease pain. Cervical decompression is also a very effective treatment for this condition.
Contact our Village Family Clinic when you are ready to put that auto accident-related pain behind you.