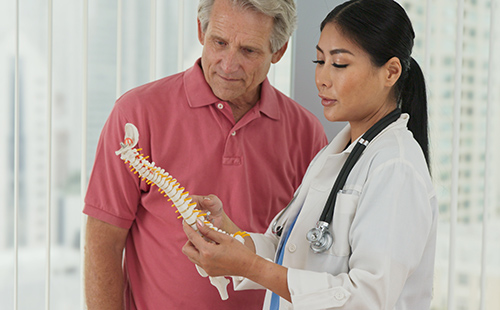 Drugs. Percocet, Vicodin. Temporary pain relief at best. Dangerous and even deadly at worst. Any way you put it, none are a good choice barring ANY alternative.
Imagine having a pebble in your shoe. You can take all the medication you want -- pain killers, muscle relaxers. Do you think it's going to fix your foot? Or do you think maybe you should get the pebble out? You have MUCH better options.
Spinal Injections. While spinal injections are effective, they are not without risks. A large needle is placed into your spine, and medication is injected near the nerve. This is very risky and requires accuracy. Oftentimes, the medication can wear off.
Surgery. Although advances in surgery have made many procedures less invasive and more effective, they still have inherent risks. High costs, lengthy recovery times, possible infections and anesthesia complications are among other things that you have to consider. According to the American Academy of Orthopedic Surgeons, there are approximately 200,000 laminectomies performed every year, with an estimated 20-30 percent reported to be unsuccessful.
Spinal Decompression. Allen Dyer, MD, PHD is the inventor and founder of the revolutionary technology behind Non-Surgical Spinal Decompression. Spinal Decompression is effective in treating back pain and sciatica caused by bulging, herniated, and degenerative discs or facet syndrome. Spinal Decompression slowly lengthens and decompresses the spine, creating negative pressures. This reversal of pressure creates an intradiscal vacuum that helps to reposition bulging discs and pull extruded disc material back into place, taking pressure off pinched nerves.
If you opt for a non-surgical way of dealing with your spinal problem, spinal Decompression is offered at Village Family Clinic. Contact us and schedule a consultation. Let us help you determine the best treatments for your disc problem.