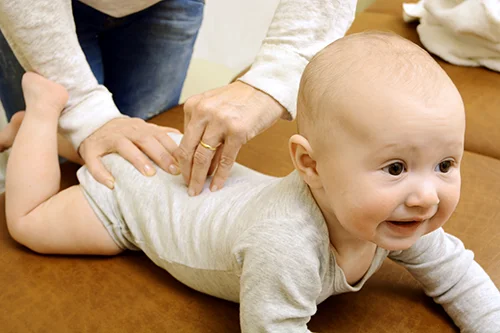 Chiropractic care helps activate the nervous system, allowing for your babies to enter rest, digest, healing, and repair mode. Chiropractic is safe, gentle, and effective at any age. You can believe in the power of preventative care for a healthier life. Chiropractic care benefits children of all ages.
Chiropractic care is a gentle and non-invasive therapy that works to correct underlying issues before they become hard-wired in during a child's development. There are numerous causes of misalignment in babies and children but there is only one solution. It is recommended to have a chiropractic checkup regardless of if your baby is expressing symptoms, soon after birth. There are countless benefits for your baby to be under chiropractic care. With our gentle and caring chiropractic approach, we provide the perfect support for their delicate spines, ensuring proper alignment and a solid foundation for a healthy future. A balance nervous system is essential for long term health in your little one,
Chiropractic care helps ensure the proper development of your baby. Bring your child in for a chiropractic checkup and get them on the road to healthier living. If you are looking for a safe and effective way to support your child's health, call our clinic to schedule your appointment.
For more tips on Chiropractic care for Babies, contact Village Family Clinic.