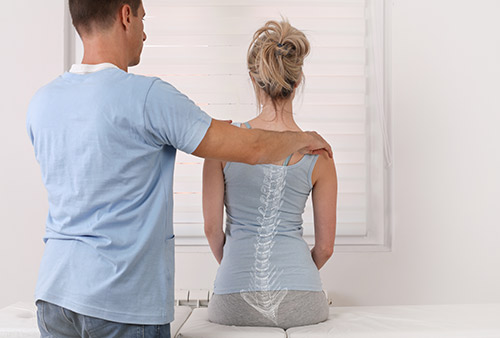 If you (or someone you know) displays bad posture, chances are they suffer a variety of ills and pain. Bad posture is often not, in and of itself, a condition, but rather a symptom of an assortment of health conditions that drive poor posture. Did you know that, increasingly, medical doctors recommend that their patients seek a chiropractic consult as a surgical and drug-free path to body pain and poor posture? Here at Hackettstown's Village Family Chiropractic Clinic, our Doctors are highly trained and experienced in treating the causes of poor posture.
Improved posture will empower your body to acquire strong and balanced spinal and muscular communication that leads to efficient structural functionality. Of course, this also drives lower levels of inflammation and pain. Chiropractic adjustment combined with simple at-home exercises can drive dramatically positive posture improvement in as little as two to four weeks.
If you have muscles that are underused or weak, the body will compensate for that. However, the compensation comes at a cost. Very often that cost is pain. Other muscles and tendons must compensate thus tightening and pulling the spine into misalignment. Chiropractic will strengthen and release muscles and correct imbalances. Having good posture will deliver many essential health benefits including freedom from back pain and shoulder pain due to bad posture. It reduces the risk of injury and minimizes wear and tear on joints and muscles. It prevents muscle strains from movement with high-risk posture. Good posture greatly helps digestion, and you will look healthier, taller, and more self-confident. Appearance makes a better impression on others. With chiropractic, identifying the causes of posture problems and correcting them enables you to start standing and sitting straighter without the need to keep trying to remind yourself to correct your posture.
Treatment from a highly trained, experienced, and licensed chiropractic team will help restore healthy posture. These are some of the essential methods a chiropractor will use to help you overcome unhealthy posture. With chiropractic care, you will feel your best, while also being your best. Never underestimate the power of chiropractic on your health, contact Village Family Clinic today!