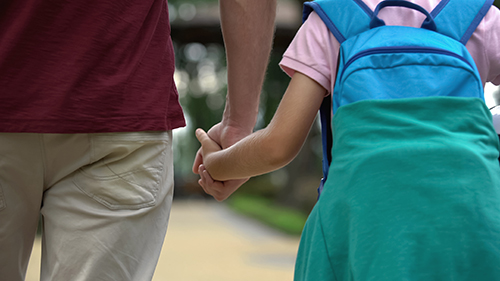 Greetings once again from you friends, neighbors, and professional chiropractic care team here at Village Family Clinic! Today's blog post is about "backpack management". We keep expecting this annual reminder to stop being necessary at some point as more and more schoolwork becomes computer based and fewer textbooks are being used but somehow we still see these 80lb kids hauling these 20lb backpacks to the bus stop in the morning.
The following are common daily loads of a middle schooler's backpack:
Athletic clothes for gym
Water Bottle
Snacks and Lunch
Work Folders / binders
At least two textbooks
This came out to just over 15lbs. That doesn't sound like a lot. But if the child weighs 75lbs, that's 20% of his body weight. Even that wouldn't be such a big problem except that these kids don't get lockers anymore, so they are hauling this load around all day every day.
Here are some fun facts:
The US Consumer Product Safety Commission found during a recent study that 75% of children surveyed in the age range of 8 to 12 years complained of back pain related to their backpacks.
It is estimated that 14,000 children are treated for backpack related injuries every year.
In 2016 over 6,300 kids had backpack-related injuries severe enough to receive Emergency Room treatment.
So, here is the down-low on how to properly send your kiddos off to school and keep them out of the chiropractor's office (at least until their next somersault off the side of the trampoline).
Keep the backpack weight around 10% of your kid's body weight whenever possible (I know with the tiny ones this is a hard thing to accomplish, but their spines are in a critical developmental stage so try)
Never let the bottom of the pack hang more than 4 inches below their waistline (don't buy a backpack taller than the distance from your kid's waistline to the top of their shoulders, or wider than their shoulder width)
Always encourage them to wear both shoulder straps (and a waist strap or chest clip if the bag has one)
Make sure the straps are wide and padded (too much pressure on the shoulders can cause other problems like numbness in the arms and hands)
Place the heaviest items closest to their back (multiple compartments help with this)
If they must lean forward to stand or walk, the bag is too heavy (keep the backpack limited to the essentials even if it means them taking a second bag for afterschool activities etc.)
None of this is meant to scare you as a parent and we know that with your teenagers backpack safety is not high on their list of concerns but if we use these recommendations as a guide and just improve what we can it will be a step in the right direction.
If you have questions or concerns beyond this simple list, feel free to contact us at Village Family Clinic. One of our doctors will be happy to answer any questions you have about backpack safety or childhood back problems.